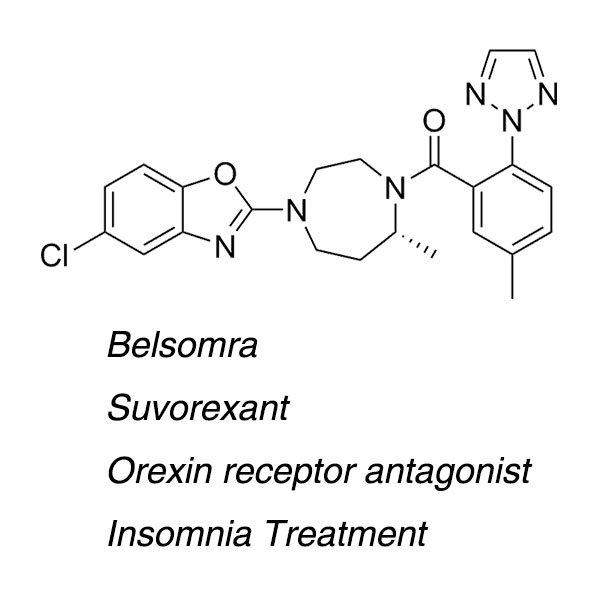 产品描述
Merck's Sleep Drug Suvorexant (Trade Name:Belsomra) was approved on August 13, 2014 by the U.S. Food and Drug Administration (FDA) to treat insomnia.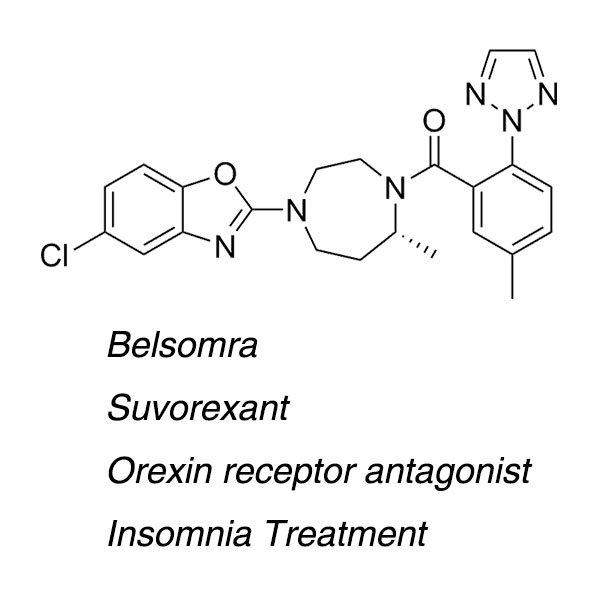 Belsomra (Suvorexant) belongs to a new class of insomnia medicines called orexin (also called hypocretin) receptor antagonists and is the first drug of its kind to be approved for patients with insomnia. It is designed to facilitate sleep by blocking neurotransmitters in the brain that help to keep a person awake.
Insomnia is a common condition in which a person has trouble falling or staying asleep. Most patients are prescribed a class of drugs called hypnotics, including medications in the benzodiazepine family (sold under such commercial names as Xanax, Ativan, Restoril and Halcion) and non-diazepine hypnotics sold under such commercial names as Zaleplon, Ambien, Lunesta and Ramelteon.
The FDA has approved Belsomra in four different strengths – 5, 10, 15, and 20 milligrams. Merck had originally proposed that non-elderly adults start on 20 milligrams and increase to 40 milligrams if needed. Last summer, the agency rejected Merck's bid to also get approval for the 30mg and 40mg doses, citing safety concerns. Analysts predict Belsomra's annual sales will peak somewhere around $500 million.
Suvorexant isn't the first orexin blocker to make it to phase 3 trials. the Swiss company Actelion Pharmaceuticals, collaborated with the UK's GlaxoSmithKline,reported its sleep aid drug Almorexant met its main target in the 700-person trial, outperforming placebo with "evidence for differentiation" from Ambien. But a little over a year later, they announced plans to halt development of the drug  due to the occurrence of side effects, leaving Merck's suvorexant as the front-runner in the drug class.
In addition to suvorexant, Merck is developing a follow-up compound filorexant (MK-6096), for which Phase II trials have been completed. But Merck's website did not list filorexant (MK-6096) in its development pipeline as of June 19 2014.
GlaxoSmithKline also has a dual orexin receptor antagonist called SB-649868 that has completed seven studies (6 Phase I and 1 Phase II). But SB-649868 is not currently listed in its development pipeline in GlaxoSmithKline's website as of June 19 2014.
There are half a dozen sleeping pills already on the market; Sanofi-Aventis's Ambien (zolpidem) dominates the category and is now a cheap generic. Category competition also includes Sunovion's Lunesta (eszopiclone) and Takeda's Rozerem (ramelteon).
First Generation Synthesis of insomnia drug suvorexant (Belsomra) via racemic reductive amination and classical resolution
Cas No
1030377-33-3
Main text
Chemical Formula: C23H23ClN6O2
Molecular Weight: 450.93
Purity:+99.5%min.
Moisture:  1.0% max.
Melting Point:N/A
Storage temp:  Is closed under room temperature
Packing
Packaging:1kg,10kg,25kg
Usage
Suvorexant