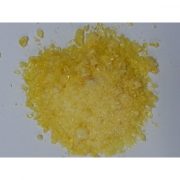 苯并噁嗪树脂
Benzoxazine resins are prepared from the reaction of 1:1:2 (molar ratio) of amine, phenol and formaldehyde.
Product Description
INTRODUCTION
Benzoxazine resins are prepared from the reaction of 1:1:2 (molar ratio) of amine, phenol and formaldehyde. When heated, they homopolymerize readily to form rigid polymers that can be widely used as high-temperature composites, high performance copper clad laminates and plastic packaging materials. Improved properties can be obtained by conbining with epoxy or phenolic resins, catalysts or toughening agents.
Benzoxazine resins and corresponding polybenzoxazines possess excellent performances.
Room temperature storage and shipping stability
No volatile release during cure
Low cure shrinkage and exotherm
Good dimensional stability
Low water absorptivity
Low dielectric constant
Excellent flame resistance
High temperature resistance
Good mechanical property
Good chemical resistance
Based on these advantages, the halogen-free benzoxazines are widely applied as composites, coatings, adhesives and encapsulants in a wide range of demanding applications. A simple comparison between benzoxazine resin and other classical resins is shown as follows.
Benzoxazine resin vs. epoxy:
› Higher retention of hot/wet properties
› Lower cure shrinkage and heat release
› Better flame resistance and inherent Flame-Smoke-Toxicity (FST) characteristic
Benzoxazine resion vs. phenolics:
› Lower porosity
› No external acid or base catalysts needed for curing
› Better mechanical properties
Benzoxazine resin vs. BMI:
› Lower cure temperature and shorter curing time
› Lower cost
› Higher toughness
ACO PHARM CO.,LTD. has developed a series of benzoxazine resins (benzoxazine) and the corresponding formulations, which can meet the various requirements of different application scenarios. The following superiorities of benzoxazines are suggested to be considered when making a choice.
* Reactivity and stability of the resin
* Heat resistance
* Toughness and damage tolerance
* Processing method
BENZOXAZINE PRODUCT PORTFOLIO
2.1 Benzoxazine Resins
Benzoxazine resins
Melting Point

[oC]

Viscosity [Pa.s]
Gel time @ 190oC [min]
Tg(DSC)

[oC]

Toughness
Comments
AIBZ430
53-63
0.6-0.9 a
16.3-24.7
~175
—
• High-temperature resistance

• Good flammability resistance

• High modulus

• Low water absorption

• High dimensional stability

• Co-polymerizable with epoxy or phenolic resins.

• Ambient storage and shipping

AIBZ682
50-60
0.4-1.0 a
9.2-13.8
~160
—
AIBZ483
65-85
1.6-3.7 a
4.3-6.3
~200
Medium
AIBZ462
—
0.2-0.4 b
9.2-13.8
~160
Medium
AIBZ8300
—
0.7-1.0 b
15.7-23.7
~245
Medium
• One-part system and easy processing

• Good toughness and microcrack resistant

• Lower cure shrinkage and cure exotherm

• Ambient storage and shipping

• Improved UV resistance

• High hot/wet performance

• Good flame, smoke and toxicity

• Suitable for RTM or VARTM

AIBZ8301
—
0.02-0.08 b
17.2-25.8
~200
Medium
AIBZ8302
—
0.10-0.16 b
11.7-17.3
~175
High
Note: All the above benzoxazine resins can be supplied as a solution in a solvent as required. a @120oC. b @100oC.
2.2 Toughening of Benzoxazine Formulations
The benzoxazine resins are usually brittle without toughening, showing poor impact resistance. Therefore the toughening is extremely important in practical application. Nevertheless, how to keep both the modulus and the glass transition temperature (Tg) while increasing the toughness of the resin is a big challenge. The toughening of the resin can be realized through the addition of some traditional reagents such as thermoplastic rubber and nanoparticles. However, in most cases, they will obviously reduce the Tg and the modulus of the cured thermosets simultaneously. We have developed a series of excellent toughening agents which can significantly improve the toughness of the corresponding cured benzoxazine without obviously reducing the Tg and the modulus.
Figure 1 shows the representative results of the mechanical tests (fracture toughness and tensile test) after 20% of toughening agent AIBZ910 or AIBZ911 is used with benzoxazine resin AIBZ462.
2.3 Cure Catalysts for Benzoxazine Formulations
Generally, pure benzoxazine is not very reactive. High temperature is often needed to obtain the corresponding polybenzoxazines. DSC analysis showed that typically the onset exothermic temperature is >180oC and the peak temperature >200oC. Such a high curing temperature will limit its application in some cases. We has developed several efficient catalysts which can accelerate the curing process at lower temperature to meet the demands of different applications. The catalyst loading and the choice of catalyst are dependent on the required curing time/temperature, the processing method and epoxy component, etc.. The representative results for AIBZ950, one of the highly active catalysts, are shown in Figure 2.
On the other hand, as for resin transfer molding (RTM) or vacuum-assisted resin transfer molding (VARTM), the matrix resin should have the following properties: 1) it should have lower viscosity and longer pot life at a relatively higher temperature in order to conveniently cast bigger parts. 2) It should be able to fast cure at elevated temperatures in order to decrease production time and save cost. To this end, a latent catalyst is commonly needed. Catalyst AIBZ951 demonstrates excellent stability on benzoxazine resin at as high as 120 oC (shown by the isothermal viscosity test), and has good catalytic effect as well (shown by DSC analysis). These properties are very beneficial to RTM or VARTM processing. (Figure 3).